About Bharathanatyam
upcoming
events
Date : 01-03-2011
Music Festival
Sarayu Sai is a Bharatanatyam Dancer who in the initial years trained in Bharatanatyam by just watching dance performances...

photo
gallery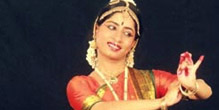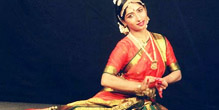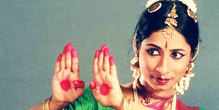 Dr Padma Subramanyam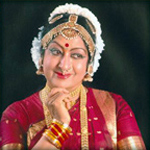 Dr. Padma Subramanyam
A rare combination of a flawless dancer, choreographer, music composer, singer, research scholar, teacher and author, Dr. Padma Subramanyam is one of the most respected and reputed Bharathanatyam dancers in India. She was born on 4th February, 1943 in Chennai. Her father was K. Subramanyam who was a famous director and also a freedom fighter. Her mother was Smt Meenakshi Subramanyam was a lyricist in Sanskrit and Tamil, dancer, choreographer and a flawless instrumentalist who mastered the Violin, Veena and Harmonium. Given here is a short biography of Dr. Padma Subramanyam that covers her life history.
She is currently the director of "Nrutyodaya", which is a dance school that was founded by her father in the year 1942. She started to learn dance at Nrutyodaya under the guidance of a teacher named Kausalya. She was also trained later on by Guru Vazhuvoor Ramaiah Pillai. Her first public performance known as "Arangetram" was in the year 1956. After that, she gave innumerable performances in concerts all over the world. She also continued her education side by side.
Dr Padma Subramanyam never let her studies suffer because of her performances and busy schedule. She has got a Bachelor's degree in Music, Master's in Ethno Musicology and Ph.D in dance from Annamalai University. She has been a research scholar and has written a thesis on "Karanas in Indian dance and sculpture". She laid emphasis on the fact that the 108 Karanas or units of dance are not just poses but movements. She has also designed the sculptures of the Karanas of Lord Shiva with his consort Parvati that are kept in the Nataraja Temple at Satara, located in Maharashtra.
Dr Padma Subramanyam was the first dancer to introduce "Pushpanjali" as a dance piece. She has written many articles that have been compiled as "Legacy of a Legend". She has also composed a Bengali Varanam, the first of its kind whose lyrics have been penned by Salil Chaudhry. Dr Padma Subramanyam enchants spectators with perfect movements and hand gestures and emotes beautifully with her face.