About Sarayu Sai
upcoming
events
Date : 01-03-2011
Music Festival
Sarayu Sai is a Bharatanatyam Dancer who in the initial years trained in Bharatanatyam by just watching dance performances...

photo
gallery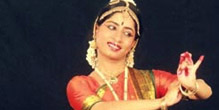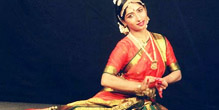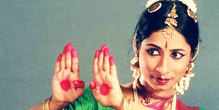 List of Key Solo Performances by Sarayu Sai
Sarayu Sai gave her "Arangetram", maiden performance on June 10th, 1996 under Smt Chitra Visweswaran, while doing her M.A. (English Lit) in Stella Maris College. Since then Sarayu Sai has given over 150+ solo performances and has been regularly performing during music and dance season at Bharath Kalachar, Kapali Fine Arts, Sri Krishna Gana Sabha, Music Academy, Narada Gana Sabha, Sri Parthasarathy Swamy Sabha, Mylapore Fine Arts, Natyanjalai Trust, Karthik Fine Arts, Nungambakkam Cultural Academy, Delhi Tamil Sangam, Brahma Gana Sabha, Mahabalipuram Dance Festival for the last 15 years. She has been blessed by Lord Nataraja and has performed at Vadaganathan Temple, Trichur for Maha Shivarathri Festival & at Chidambaram Natyanjali Festival.
In addition to performing in sabhas, tamil sangams & at temples, Sarayu Sai's performance was aired in Doordarshan, India's National Television & she was a Chief Guest in the popular dance show "Thakathimi Tha" in Jaya TV and has been special guest in Doordarshan's "Kaalai Malar", a popular breakfast show.
Here is a short list of few of her 150+ solo performances given over the last 15 years.
1996, December – Nungambakam Cultural Academy
1997, January – Krishna Gana Sabha
1997, December – Kapali Fine Arts
1997, December – Nrithyanjali Trust
1998, January – Thyaga Brahma Gana Sabha
1998, December – Kapali Fine Arts
1998, December – Madras Welwishers Trust
1999, December – Natyanjali Trust
1999, December – RR Sabha
2000, January – Krishna Gana Sabha
2000, March – Vadakanathan Koil, Maha Sivarathri Festival, Trichur,
2000, December – Mylapore Fine Arts Club
2000, December – Madras Welwishers Trust
2000, December – Kabali Fine Arts
2000, December – Sri Parthasarathy Swamy Sabha
2001, January – Karthik Fine Arts
2001, January – Nungambbakam Cultural Academy
2001, August – Madras Welwishers Trust
2001, December – Rasikha Fine Arts
2002, January – Bharathiya Vidya Bhavan
2002, January – Bharath Kala Char
2002, January – Narada Gana Sabha
2002, October – Delhi Tamil Sangam
2003, December – Brahma Gana Sabha
2003, December – Mylapore Fine Arts
2003, December – Sri Parthasarathy Swamy Sabha
2003, January – Krishna Gana Sabha
2004, December – Brahmagana Sabha
2004, December – Kabali Fine Arts
2004, December – Bharthiya Vidya Bhavan
2005, January – Bharat Kala Char
2005, January – Krishna Gana Sabha
2005, January – Karthik Fine Arts
2005, December – Mudhra
2005, December – Brahma Gana Sabha
2005, December – Mylapore Fine Arts Club
2006, December – Rasika Fine Arts
2006, December – Mylapore Fine Arts
2007, January – Karthik Fine Arts
2007, January – Bharath Kala Char
2007, September – Bharthiyar Tamil Sangam, Rani Seethai Hall
2007, September – Bhartiya Vidya Bhavan
2007, December – Mylapore Fine Arts
2008, January – Mylapore Fine Arts
2008, January – Parthasarathy Swamy
2008, December – Natyanjali Trust
2008, December – Nrithyanjalai Trust
2009, January – Mylapore Fine Arts
2009, January – Parthasarathy Swamy
2009, December – Anna University
2009, December – Bharatiya Vidya Bhavan
2010, November – Nehru Indoor Stadium
2010, January – Mahabalipuram Dance Festival
2010, December – Mylapore Fine Arts Club
2011, January – Mahabalipuram Dance Festival
2011, March – Chidambharam Natyanjali Trust