About Bharathanatyam
upcoming
events
Date : 01-03-2011
Music Festival
Sarayu Sai is a Bharatanatyam Dancer who in the initial years trained in Bharatanatyam by just watching dance performances...

photo
gallery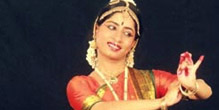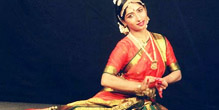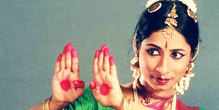 Smt Rukmini Devi Arundale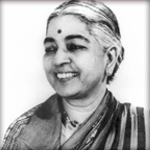 Smt Rukmini Devi Arundale was born in 1904, at Madurai. Her father was an engineer and the family moved from place to place as her father's job demanded. Smt Rukmini Devi Arundalewas one of seven children and had a happy childhood. As she put it in a short biographical note published in a Birth Centenary Volume published by Kalakshetra in 2003, "I have had the fortune of having the most understanding and loving parents. No discipline was imposed on us, but traditional values and correct behavior we learnt automatically by watching them. . . Father was . . . very forward thinking and disliked many of the narrow prejudices, the caste distinctions, animal sacrifices, etc. which were part of our religion in those days. She went on to say, "My father was initiated into the Theosophical Society by Colonel Olcott in 1906. He liked the teachings of the Theosophists which freed religion from superstition. . ."
After he retired from government service, Smt Rukmini Devi's father bought land next to the Theosophical Society estate in Adyar. After the death of her father, the family grew close to Dr. George Arundale, a distinguished Theosophist and an associate of Dr.Annie Besant.
In 1920, when Smt Rukmini Devi was sixteen, she married Dr. Arundale with Annie Besant's blessings and with the approval and support of her mother and brothers. However, they faced a great deal of opposition from a conservative society in Madras, but stayed firm in their resolve and remained happily married until Dr. Arundale's death in 1945.
Marriage to Dr. Arundale changed Smt Rukmini Devi's life. She began to travel widely with her husband on Theosophical work. She also became very close to Dr. Annie Besant and helped her with her work. Although she was very young at that time, she observed and absorbed a great deal of the values and the concerns of those who worked with Dr Annie Besant, for the freedom of India and for the revival of India's cultural heritage.
On her travels, Smt Rukmini Devi met the legendary ballerina, Anna Pavlova. They traveled on the same ship to Australia. Rukmini Devi was fascinated by the great artiste. She began to attend her performances in Australia whenever she could and eventually, on Anna Pavlova's suggestion, she learnt ballet from Cleo Nordi, Pavlova's student. Of Pavlova, Rukmini Devi wrote, "She was not beautiful in the ordinary sense but had a great presence on stage and an almost divine grace. That was what made her great. I can never forget her, for she showed me the great possibilities in dance as an art form."
At the Theosophical Society in Adyar, Smt Rukmini Devi often took part in theatrical productions, and later began to create dances and plays. However, she wrote, "I felt dissatisfied and wanted very much to learn Bharatha Natya based on the classical music which I loved and to do something more serious." She began to seek dance performances and performers, and finally found a teacher in Mylapore Gauri Ammal. She also convinced the doyen of the Pandanainallur bani, Meenakshisundaram Pillai to come to Madras to teach her.
Rukmini Devi gave her first performance at the Diamond Jubilee celebrations of the Theosophical Society in 1935. She wrote of that event, "The programme was a great success and a turning point in the history of Bharathanatyam. Many people who had been against the dance became converted.
In January 1936, she along with her husband, established Kalakshetra, an academy of dance and music, built around the ancient Indian Gurukul system, at Adyar, near Chennai. Today the academy is a deemed university under the Kalakshetra Foundation and is situated in its new in 100-acre campus in Tiruvanmiyur, Chennai, where it shifted, in 1962. Amongst its noted students are Radha Burnier, Sarada Hoffman, Kamaladevi Chattopadhyay, Sanjukta Panigrahi, C.V. Chandrasekhar, Yamini Krishnamoorthy and Leela Samson.
Originally known as sadhir, the Indian classical dance form of Bharathnatyam owes its current name , to E.Krishna Iyer and Rukmini Devi Arundale, who has been instrumental in modifying mainly the Pandanallur style of Bharathanatyam and bringing it to the global attention, and removing the extraneous sringaar and erotic elements from the dance, which were the legacy of its Devadasi association in the past, thereby raising it to the status of puritan art form. Soon she changed the very face of the dance, by introducing musical instruments, like violin set and lighting design elements, and innovative costumes, and jewellery inspired by the temple sculptures. Just as for her teacher she approached noted gurus in various arts and classical dances, for her productions, Rukmini Devi approached noted scholars for inspiration and classical musicians and artists, for collaboration, the result was the creation some of pioneering dance dramas-based on Indian epics like the Valmiki's Ramayana and Jayadeva's Gita Govinda. Starting with famous dance dramas like, 'Sita Swayamvaram', 'Sri Rama Vanagamanam', 'Paduka Pattabhishekam' and 'Sabari Moksham', followed by 'Kutrala Kuruvanji', 'Ramayana', 'Kumara Sambhavam', 'Gita Govindam' and 'Usha Parinayam'.