About Sarayu Sai
upcoming
events
Date : 01-03-2011
Music Festival
Sarayu Sai is a Bharatanatyam Dancer who in the initial years trained in Bharatanatyam by just watching dance performances...

photo
gallery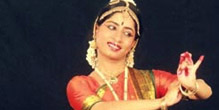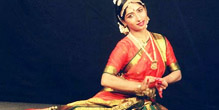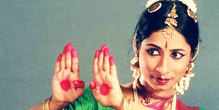 Sarayu Sai is a Bharathanatyam Dancer who in the initial years trained in Bharathanatyam by just watching dance performances on the video.
When Sarayu Sai started dancing she had a guru, but interestingly enough her Guru dint even know of her existence. As a three-year old, she lived in Dindigul, a town in Tamil Nadu. There were no dance teachers but Sarayu Sai had the flair for learning the art, a TV and Video Cassette Recorder brought many famous dancers as her gurus. Every time a dance performance appeared on Doordarshan, it was taped so Sarayu could emulate the dancer's moves & styles.
That apart, Sarayu Sai and her parents would regularly travel down to Chennai during the December season. "I would get so excited seeing the costumes, jewellery and abhinaya" she enthuses. In particular, Smt Chitra Vishweshwaran, Sarayu Sai's future guru, was the family's favorite.
A year later, she saw Smt Chitra Vishweshwaran perform on stage when she was four years old and was enthralled ever since. Since her parents were in Dindigul, she religiously taped Smt Chitra Vishweshwaran's TV performance and imitated them.
This way, she learnt several items from the margam or the repertoire such as varnams, padams & thillana. Eventually, Sarayu Sai and her family realized she would have to learn more to hone her skills. They shifted base to Chennai where Sarayu Sai pursued her dance and higher education. Initially, she learnt from Smt. Radhika Shurajit, a practitioner of the kalakshetra style of dance. She advised Sarayu to learn from Smt Chitra Vishweshwaran herself, since she had unwittingly mimicked and learn her school of dance, which is the 'Vazhuvoor Rammaiyya Pillai" style. And certainly, when Sarayu finally performed in front of Chitra, the guru was amazed. 'I performed a varnam choreographed by her, which I learnt from a video taped recital, she asked me, 'From whom did you learn? Did you learn it from one of my students?' I told her that I had learnt by watching her taped performances."
Smt Chitra Vishweshwaran immediately took Sarayu as a student, and she soon completed an entire margam. In a short span of time, she completed her arangetram, the ceremony marking a dancer's first performance on stage and ever since she has been performing all over Tamil Nadu, Kerala, and Delhi…
Sarayu Sai has given more than 150 solo performances on stage, especially during the December music season in Chennai. Her passion for Bharathanatyam, along with her perseverance has brought her laurels like the 'Best Dancer' award from Krishna Gana Sabha in 1999, the 'Yuva Kala Bharathi' award from Bharat Kalachar in 2001 and the title of 'Natyakala Jyothi' from Kapali Fine Arts in 2006. Besides this, she has also been honoured with 'Nritya Kalaivani' by the famous vocalists the 'Bombay Sisters'
Sarayu Sai says, ' My Guru's blessings and her praising me as 'rare phenomenon' for my progress in Bharathanatyam watching visuals in my initial years, has worked wonders for me'
Almost like a modern Ekalvaya (who learnt the skill of archery by watching Dronacharya teach Arjuna). Yet, even though she learnt many aspects of the dance on her own, she wouldn't advise anybody else to do the same. "I feel it's very important to learn form a guru. If it were not for my teachers, I would not be able to dance professionally, as only a guru can teach the students the finer nuances of dance"
That's why Sarayu Sai has started a dance school, Srishti Gurucool to help young children to learn the art form. Sarayu Says "There is so much to learn directly from a guru that I missed in my initial years of learning Bharathanatyam. Keeping this in mind I started the school in the 'Guru-Sishya' parampara; to pass on to my students the tradition of Bharathanatyam". Now Sarayu Sai is making a humble attempt to teach Bharathanatyam with the help of internet to many aspiring students around the world who may not have easy access to a Guru in the same 'Guru-Sishya' parampara.
Sarayu Sai holds a Master's degree in English Literature from Stella Maris College and a diplomas in Arts & Crafts. She is also trained in Nattuvangam from M.S.Suki.
She is a quintessential example of on how to stay determined and focused to win against all odds!