About Bharathanatyam
upcoming
events
Date : 01-03-2011
Music Festival
Sarayu Sai is a Bharatanatyam Dancer who in the initial years trained in Bharatanatyam by just watching dance performances...

photo
gallery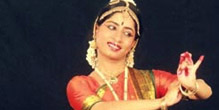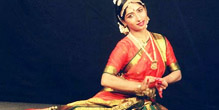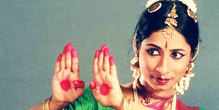 Smt Chitra Visweswaran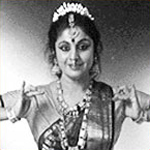 Deeply entrenched in the old Tanjore tradition of Bharathanatyam, Smt Chitra Visweswaran's association with dance began at a very early age. Her first Guru, at the age of three, was actually her mother, Smt. Rukmini Padmanabhan, who was an excellent dancer trained in contemporary Indian dance and Bharathanatyam but never took it up as a profession. Smt Chitra Visweswaran owes her artistic and creative vision to her mother and intellectual quest to her father, Sri. N. Padmanabhan, an engineer with the Indian Railways. After initiation into dance by her mother, Chitra undertook training in Western Classical Ballet in London where her father was Railway Adviser at the Indian High Commission. This was followed by training in Manipuri and Kathak in Calcutta. At the age of ten, she went under the tutelage of one of the best devadasis of Tiruvidaimardur, Smt.T.A Rajalakshmi, who was settled in Calcutta and under whom she trained for nearly 10 years. Her Arangetram (first maiden performance) took place within ten months, an astonishingly short period to achieve this level of proficiency.
Smt Chitra Visweswaran's first piece of dance choreography was at the age of eleven. At thirteen, she had choreographed the life of Saint Thyagaraja in the format of a Varnam, the most demanding of pieces in the Bharathanatyam's repertoire. Several such pieces of choreography followed even as she studied contemporary dance in parallel to her Bharathanatyam training. During this period, she choreographed individual pieces and short thematic presentations. Though she wanted to leave Calcutta for Madras (or Chennai as it is called now) in order to pursue dance seriously on finishing school, her parents insisted on her completing an honors degree (B.A. in English). Thanks to the frequent closures of Calcutta University, she fruitfully spent her time studying dance theory and dance history entirely on her own and also became involved in interdisciplinary search and research.
In 1970, she received the National Scholarship for advanced study in Bharathanatyam from the Ministry of Human Resources Development, Government of India, at a time when only two scholarships were awarded throughout the country, as against twenty-five, today.
She spent her scholarship period of four years under the doyen of Bharathanatyam, Vazhuvoor Ramaiyya Pillai. Her experience as his sishya widened her aesthetic vision even as her earlier Gurus' training gave her excellent grammar and technique. Within three months of joining Vazhuvoor Ramaiyya Pillai, her guru introduced Smt Chitra Visweswaran to the Madras audience by promoting her over all his other students as the heroine of a dance drama, Thirumalai Kumaresa Kuravanji, which her guru had choreographed. Eminent people such as Prof. Sambhamoorthy, Kapila Vatsyayan and Sunil Kothari even then noted her work.
On completion of her scholarship, Chitra started working on her own, combining the lessons she had learnt from her Gurus and her knowledge of the cognate forms of arts, harnessing to it a scholastic approach and holistic vision in order to develop a wholly individualistic philosophy of movement and language of communication.
Smt Chitra Visweswaran started teaching dance at Calcutta at the age of sixteen, but it was in 1975 that she established "Chidambaram Academy of Performing Arts" (CAPA) in Chennai, now an acknowledged premier institution in India.