About Bharathanatyam
upcoming
events
Date : 01-03-2011
Music Festival
Sarayu Sai is a Bharatanatyam Dancer who in the initial years trained in Bharatanatyam by just watching dance performances...

photo
gallery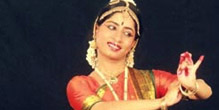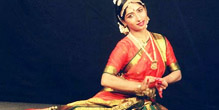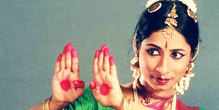 Smt Vyjayanthimala Bali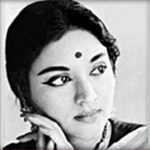 Smt Vyjayanthimala Bali is a famous Indian actress and classical dancer of the 50s and 60s.
Smt Vyjayanthimala Bali was born on August 13th 1936 in Chennai, Tamil Nadu, India. She finished her schooling from Sacred Heart Church Park Convent, Chennai.
She is a trained dancer in Bharathanatyam and performed for the Pope when she was five years old. She has won a number of awards for her dance performances and for her acting.
After she got married to Dr. Chamanlal Bali, she quit acting and shifted to Chennai to bring up her son Suchindra. She decided to step into politics as a member of the Lok Sabha. She was then nominated as a member of the Rajya Sabha.Taking the help of co-writer Jyoti Sabarwal, she wrote her autobiography titled Bonding.
Career
Smt Vyjayanthimala Bali made her debut with a Tamil film Vazhkai. It was a hit and its remake was made in Hindi as Bahaar (1951). In one of her Tamil films Vanjikottai Vaaliban she has a dance competition with Actress and Dancer Smt Padmini which became very popular.. She has done a number of Tamil movies before setting her mark in the Bollywood Industry. Vanjikottai Valiban, Irumbuthirai, Then Nilavu, Vaazhkai, Penn, Parthiban Kanavu and Baghdad Thirudan are some of them.
Her first two Hindi movies were Ladki and Nagin (1954). "Man Dole, Mera Man Dole" was a famous song in this movie and it brought the actress a lot of popularity and success. In Bimal Roy's Devdas (1955), she was seen opposite Dilip Kumar playing the role of Chandramukhi. She won the Filmfare Best Suporting Actress Award for her performance in this movie but refused the Award, as she felt that her role as 'Chandramukhi' in Devdas (1955) was not a supporting one; she felt she was as much the heroine of the film as Suchitra Sen, who played 'Paro'. After the success of this movie, she starred in four more movies opposite Dilip Kumar.
They are Naya Daur (1957), Madhumati (1958), Ganga Jamuna (1961) and Leader. She received the Filmfare Best Actress Awards for two of her roles.
In the famous movie Sangam (1964) she was paired with Raj Kapoor and it earned her a Filmfare Best Actress Award. In 1966, she starred in the epic Amrapali. It did not do well at the box office. She has acted with almost all the big Bollywood personalities like Rajendra Kumar in Suraj, Dev Anand in Jewel Thief, Shammi Kapoor in Prince, and with Kishore Kumar in a couple of movies. Dharmendra was her costar in Pyar hi Pyar (1969) and she was seen in Sangharsh (1968) with Dilip Kumar