About Sarayu Sai
upcoming
events
Date : 01-03-2011
Music Festival
Sarayu Sai is a Bharatanatyam Dancer who in the initial years trained in Bharatanatyam by just watching dance performances...

photo
gallery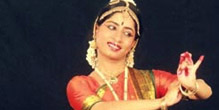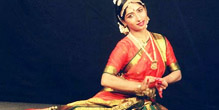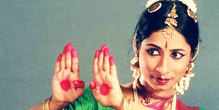 Sarayu Sai was born and brought-up in a small town – Dindigul. At the age of 3, Sarayu Sai learnt Bharathanatyam (Thanjavur Pani) from Guru Rajendra Pillai. She couldn't pursue the divine art of Bharathanatyam, since the guru had to come all the way from Thanjavur. But Sarayu Sai had the flair for learning the art, a TV and Video Cassette Recorder brought many famous dancers as her gurus. Every time a dance performance appeared on Doordarshan, it was taped so Sarayu could emulate the dancer's moves & styles. After finishing her graduation in BA (English Literature), Sarayu Sai came to Chennai to purse the art.
She first joined "Thrayee" – the school of Bharathanatyam run by Smt. Radhika Shurajit. She took as her student and taught her the Margam in "Pandanallur Pani".
Seeing "VAZHUVOOR PANI" in Sarayu Sai, Smt. Radhika, sent her to Chidambaram Academy of performing Arts – School run by Padmasri Smt. Chitra Visweswaran. Sarayu Sai had been fortunate to come under the tutelage of Smt. Chitra akka, seeing the dedication and involvement in Sarayu Sai, Smt.Chitra Visweswaran taught her the techniques and naunces of Bharathanatyam, theory, make-up, stage decor, lighting etc.
While doing her M.A. (English Lit.) in Stella Maris College, she did her maiden performance under Smt Chitra akka. Since then Sarayu Sai has been regularly performing for Kapali Fine Arts, Krishna Gana Sabha, Narada Gana Sabha etc. She has given more than 150 solo performances throughout India.
She has been awarded the Best Dancer from Krishna Gana Sabha in the year 1999 from Padmabushan Dr. Karan Singh, "Yuvakala Bharathi" from Bharath Kalachar in the year 2001 from Padmabushan Sonal Mansingh and Nrithya Kalaivani from Kalaimamani Bombay Sisters, "Natya Kalajyothi" from Sri Kapali Fine Arts in the year 2006 presented by Shri V R Lakshmi Narayanan IPS, Former DGP Chairman of Bharatiya Vidya Bhavan , Padmasri Smt. Saroja Vaidyanathan
Sarayu Sai's recitals have been witnessed by distinguished personalities like Padmabushan Lalgudi G. Jayaraman, Padmabushan C.V. Narasimhan, Padmabushan Kamala, Natyaperoli Padmasri Sri V.R. Lakshminarayanan, IPS, Crazy Mohan, Dr. Mrs. Y.G.Parthasarathy, Kalaimamani Bombay Sisters Smt. C. Saroja and Smt. C. Lalitha, Kalaimamani Smt. P. Susheela, Smt. S. Janaki, Smt. Vani Jairam, Padmasri Smt. Saroja Vaidyanathan and so on.
Sarayu Sai's recital have been widely appreciated by leading daily newspapers & magazines, The Hindu, Indian Express, Rave, Aval Vikadan, Kungumam, Snekithi etc.
Due to Sarayu Sai's passion for this art she has devoted considerable effort towards the promotion of Bharathanatyam among young and aspiring talents for the Dance & Art School called "SRISTI GURU COOL" where she trains many students.